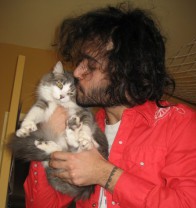 Position:
Alumnus (M.Sc.)
Contact:
kvidyart@sfu.ca
http://www.jayvidyarthi.com/
Affiliations:
SIAT, SFU, McGill University, Yu Centrik; now at http://www.interaxon.ca/
Biography
Jay Vidyarthi is simul­ta­ne­ously a per­form­ing musi­cian, human-computer inter­ac­tion designer and psy­cho­log­i­cal researcher.  His expe­ri­ence spans from indus­try to acad­e­mia, where he is presently pur­su­ing a Masters degree at the School of Interactive Arts and Technology at SFU.
Jay's port­fo­lio includes a unique brand of psy­che­delic blues music, com­pre­hen­sive inter­face design spec­i­fi­ca­tions for var­i­ous media, and research focused on the psy­chol­ogy of tech­nol­ogy use.  As diverse as it may seem, Jay's work inter­sects at the con­cepts of 'immer­sion' and 'expres­sion'.  Whether study­ing how a user and machine express to each other, design­ing tech­no­log­i­cal medi­a­tion of expres­sion between people, or simply express­ing him­self to audi­ences, the goal is uni­fied: to create, under­stand and use new, immer­sive forms of human expression.
» Read about Jay at the SFU Graduate Studies blog

Projects
Publications
Sorry, there's no items to display.