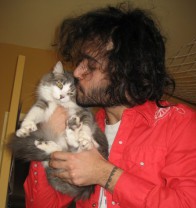 Position:
Alumnus (M.Sc.)
Contact:
kvidyart@sfu.ca
http://www.jayvidyarthi.com/
Affiliations:
SIAT, SFU, McGill University, Yu Centrik; now at http://www.interaxon.ca/
Biography
Jay Vidyarthi is simul­ta­ne­ously a per­form­ing musi­cian, human-computer inter­ac­tion designer and psy­cho­log­i­cal researcher.  His expe­ri­ence spans from indus­try to acad­e­mia, where he is presently pur­su­ing a Masters degree at the School of Interactive Arts and Technology at SFU.
Jay's port­fo­lio includes a unique brand of psy­che­delic blues music, com­pre­hen­sive inter­face design spec­i­fi­ca­tions for var­i­ous media, and research focused on the psy­chol­ogy of tech­nol­ogy use.  As diverse as it may seem, Jay's work inter­sects at the con­cepts of 'immer­sion' and 'expres­sion'.  Whether study­ing how a user and machine express to each other, design­ing tech­no­log­i­cal medi­a­tion of expres­sion between people, or simply express­ing him­self to audi­ences, the goal is uni­fied: to create, under­stand and use new, immer­sive forms of human expression.
» Read about Jay at the SFU Graduate Studies blog

Projects
Publications
Vidyarthi, J., Antle, A. N., & Riecke, B. E. (2011). Sympathetic guitar: can a digitally augmented guitar be a social entity? In
Proceedings of the 2011 annual conference extended abstracts on Human factors in computing systems
(pp. 1819–1824). http://doi.org/
http://doi.acm.org/10.1145/1979742.1979863
Gromala, D., Vidyarthi, K. J., & Riecke, B. E. (2011). Sonic Cradle; Project Exhibition in Chronic Pain: Art & Science Collaborations. Exhibition, Sept. 29 – Nov. 30 2011, California Nanosystems Institute (CNSI), UCLA, Los Angeles, USA.
Vidyarthi, J. (2012).
Sonic Cradle: Evoking Mindfulness through "Immersive" Interaction Design
(MSc Thesis). Simon Fraser University, Surrey, BC, Canada. Retrieved from
https://theses.lib.sfu.ca/thesis/etd7542
Vidyarthi, J., & Riecke, B. E. (2013). Mediated Meditation: Cultivating Mindfulness with Sonic Cradle. In
Proceedings of the 2013 Annual Conference on Human factors in Computing Systems ALT.CHI
(pp. 2305–2314). Paris, France: ACM.
http://doi.org/10.1145/2468356.2468753
Vidyarthi, K. J., & Riecke, B. E. (2013, May). Could an interactive medium introduce non-practitioners to mindfulness meditation? Talk presented at the First International Conference on Mindfulness, Rome, Italy.
Kitson, A., Riecke, B. E., & Vidyarthi, J. (2014). Sonic Cradle: Investigating Meditative Aspects of an Interactive Technology. In
NCE-GRAND 2014 Conference
(pp. 1–4). Ottawa, Canada. Retrieved from
http://youtu.be/kB8qfJ1M0gg
Vidyarthi, J., & Riecke, B. E. (2014). Interactively Mediating Experiences of Mindfulness Meditation.
International Journal Of Human-Computer Studies
,
72
(8-9), 674–688.
http://doi.org/10.1016/j.ijhcs.2014.01.006
Prpa, M., Quesnel, D., Vidyarthi, J., Kitson, A., & Riecke, B. E. (2016, May).
Sonic Cradle - Immersive interaction design combining breathing- and neurofeedback to foster focused attention meditation on breath
. Poster presented at the 2nd International Conference on Mindfulness, Rome, Italy. Retrieved from
http://www.cmc-ia.org/icm2016rome/