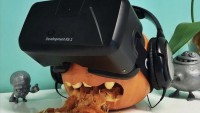 Novel Cybersickness Measures and Countermeasures:  Birds of a Feather session at SIGGRAPH 2022
Interested in connecting & joining?
If you're inter­ested in con­nect­ing to others engaged or inter­ested in the Novel Cybersickness Measures and Countermeasures, you could join our online inter­ac­tive Birds of a Feather ses­sion at Siggraph 2022, on Fri Aug 05, 10 am-11:30 am
Log in through https://siggraph2022.hubb.me/ to join the zoom room. Discord chat is also avail­able here.
Event Description
Cybersickness, a psy­chophys­i­o­log­i­cal response akin to motion sick­ness that occurs when immersed in vir­tual real­ity (VR), limits the fea­si­bil­ity of VR appli­ca­tions and impedes its eco­nomic suc­cess. Thus, cyber­sick­ness must be dis­cussed thor­oughly if we want VR to reach its full poten­tial. Attendees of this BoF will have an oppor­tu­nity to explore fac­tors affect­ing cyber­sick­ness, brain­storm novel approaches to reduce cyber­sick­ness, and con­tem­plate moving beyond stan­dard ques­tion­naires allow­ing researchers to com­pre­hen­sively assess cyber­sick­ness in real-time. Through dis­cus­sions with like-minded indi­vid­u­als, par­tic­i­pants can expect to gain knowl­edge and share ideas for poten­tial projects address­ing cyber­sick­ness con­cerns along­side net­work­ing for future collaborations.
Participant Benefits
In com­ply­ing with the SIGGRAPH 2022 Birds of a Feather pro­gram, this ses­sion will be free for all reg­is­tered SIGGRAPH atten­dees, apart from the Experience and Exhibits Only reg­is­tra­tion cat­e­gory. Participants can expect to:
Network and build com­mu­nity: meet other like­minded indi­vid­u­als from around the world for poten­tial collaborations
Gain knowl­edge: learn more about the dif­fer­ent ter­mi­nolo­gies around sick­ness in VR, the­o­ries of VR sick­ness, coun­ter­mea­sure tech­niques, fac­tors related to VR sick­ness and fur­ther dis­cover what is hap­pen­ing in var­i­ous fields, includ­ing research, and dis­cuss the chal­lenges of cyber­sick­ness in VR
Proposed Agenda: Friday, Aug 5th
10 am: Opening remarks and intro­duc­tions fol­lowed by light­ning presentations
10:25 – 11 am: Prototyping of ideas: facil­i­tated ideation (iden­tify inter­ests, clus­ter like-minded indi­vid­u­als accord­ingly); Discussion of ideas and brain­storm­ing activities
11 – 11:15 am: Group presentations
11:15 — 11:30 am: General dis­cus­sion, social­iz­ing, build­ing com­mu­nity and col­lab­o­ra­tion — Session ends
Bernhard's brief overview on "Why do we get sick in VR?And what to do about it? Cybersickness the­o­ries and implications"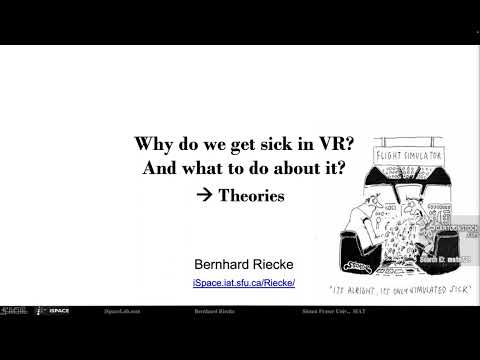 Frank's brief overview on dif­fer­ent types of VR sickness