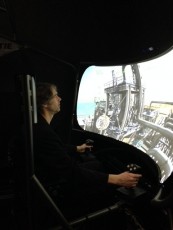 Using motion seats for enhancing locomotion and immersion in VR
How can we pro­vide a "moving expe­ri­ence" through VR with­out having to use a full-scale motion platform?
Could a com­pact and rel­a­tively low-cost "motion seat" pro­vide some of the same ben­e­fits, thus reduc­ing cost, com­plex­ity, space & safety requirements?
Despite con­sid­er­able advances in Simulation and Virtual Reality (VR) tech­nol­ogy, it largely remains an open prob­lem how to pro­vide a con­vinc­ing and embod­ied sen­sa­tion of really being present and immersed in large vir­tual spaces, and nav­i­gat­ing through them effec­tively with­out exces­sive dis­ori­en­ta­tion and motion/simulator sick­ness. This is par­tic­u­larly true when the goal is to develop cost– and space-efficient solu­tions and phys­i­cal space is lim­ited, such that vir­tual nav­i­ga­tion cannot be enabled by phys­i­cally walk­ing or moving-base motion simulators.
In col­lab­o­ra­tion with
Christie
, a large audio-visual and VR system com­pany, we jointly per­form research into
inno­v­a­tive "motion seats" that allow for small-scale user motion and vibra­tions
. The goal is to devise more com­pact and cost-effective ways to enhance the user expe­ri­ence (e.g., per­ceived real­ism, immer­sion, self-motion per­cep­tion) as well as task-specific per­for­mance in simulators.
Initial qual­i­ta­tive research is used to iden­tify key design deci­sions and out­line require­ments. This helps to guide the design and iter­a­tive refine­ment of both the motion seat and suit­able exper­i­ments to inves­ti­gate its effec­tive­ness. Together, this will lead to a work­ing pro­to­type of a motion seat and demon­stra­tor, sci­en­tific analy­sis and reports, and guide­lines for pos­si­ble future research and devel­op­ment. This project will enable and inspire more afford­able yet effec­tive simulators.
Reducing the reliance on large, heavy, and costly moving-base sim­u­la­tors can fur­ther enhance user accep­tance, safety, and acces­si­bil­ity to wider audi­ences while reduc­ing cost, space, and tech­ni­cal sup­port needs.
This could pro­vide ben­e­fits for both use single-user sys­tems (e.g., arcades, home-based pre­mium games, flight sim­u­la­tors or telepresence/remote oper­a­tion sys­tems) and multi-user sys­tems (e.g., large format dig­i­tal the­atres, next-generation movies, and theme parks).
Media Gallery
Project videos
This video gives a first glimps of a gam­i­fied exper­i­ment that we designed, where users can use either a Leap motion con­troller or a 2-handed joy­stick inter­face to con­trol a heli­copter (qua­tro­copter) fly­through in Virtual Reality. This demo illus­trates flying through a Mediterranean market place (which was the train­ing phase in one of our stud­ies), pro­jected on a Christie 2-projector VR simulator.