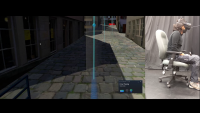 Here we pro­pose a hybrid inter­face that allows user to seam­lessly tran­si­tion between a slow 'con­tin­u­ous' mode and a fast 'hyper­jump' mode. The inter­face aims to main­tain the immer­sion, pres­ence, accu­racy and spa­tial updat­ing of con­tin­u­ous loco­mo­tion while adding the travel effi­ciency and min­i­miz­ing the cybersickness.
Continuous loco­mo­tion in VR pro­vides unin­ter­rupted opti­cal flow, which mimics real-world loco­mo­tion and sup­ports path inte­gra­tion . However, opti­cal flow limits the max­i­mum speed and accel­er­a­tion that can be effec­tively used with­out induc­ing cyber­sick­ness. In con­trast, tele­por­ta­tion pro­vides nei­ther opti­cal flow nor accel­er­a­tion cues, and users can jump to any length with­out increas­ing cyber­sick­ness. However, tele­por­ta­tion cannot sup­port con­tin­u­ous spa­tial updat­ing and can increase dis­ori­en­ta­tion. Thus, we designed 'HyperJump' in an attempt to merge ben­e­fits from con­tin­u­ous loco­mo­tion and tele­por­ta­tion. HyperJump adds iter­a­tive jumps every half a second on top of the con­tin­u­ous move­ment and was hypoth­e­sized to facil­i­tate faster travel with­out com­pro­mis­ing spa­tial awareness/orientation. In a user study, Participants trav­elled around a nat­u­ral­is­tic vir­tual city with and with­out HyperJump (equiv­a­lent max­i­mum speed). They fol­lowed way­points to new land­marks, stopped near them and pointed back to all pre­vi­ously vis­ited land­marks in random order. HyperJump was added to two con­tin­u­ous loco­mo­tion inter­faces (con­troller and leaning-based). Participants had better spa­tial awareness/orientation with leaning-based inter­faces com­pared to controller-based (assessed via rapid point­ing). With HyperJump, par­tic­i­pants trav­elled sig­nif­i­cantly faster, while stay­ing on the desired course with­out impair­ing their spa­tial knowl­edge. This pro­vides evi­dence that opti­cal flow can be effec­tively lim­ited such that it facil­i­tates faster travel with­out com­pro­mis­ing spa­tial ori­en­ta­tion. In future design iter­a­tions, we plan to uti­lize audio-visual effects to sup­port jump­ing metaphors that help users better antic­i­pate and inter­pret jumps, and use much larger vir­tual envi­ron­ments requir­ing faster speeds, where cyber­sick­ness will become increas­ingly preva­lent and thus tele­port­ing will become more important.
Ashu pre­sent­ing this paper at IEEE VR Workshop VR 2021:
Demonstration of the task:
Publications
Riecke, B. E., Adhikari, A., Zielasko, D., Bretin, A., Heyde, M. von der, & Kruijff, E. (2021).
HyperJump: Merging Teleporting and Continuous VR Locomotion into one Paradigm
[Talk]. ICSC 2021: 8
th
International Conference on Spatial Cognition, Rome, Italy.
https://youtu.be/hRqkqup40bI
(Download)