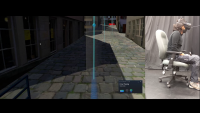 Here we pro­pose a hybrid inter­face that allows user to seam­lessly tran­si­tion between a slow 'con­tin­u­ous' mode and a fast 'hyper­jump' mode. The inter­face aims to main­tain the immer­sion, pres­ence, accu­racy and spa­tial updat­ing of con­tin­u­ous loco­mo­tion while adding the travel effi­ciency and min­i­miz­ing the cybersickness.
Ashu pre­sent­ing this paper at IEEE VR Workshop VR 2021:
Demonstration of the task:
Publications
Riecke, B. E., Adhikari, A., Zielasko, D., Bretin, A., Heyde, M. von der, & Kruijff, E. (2021).
HyperJump: Merging Teleporting and Continuous VR Locomotion into one Paradigm
[Talk]. ICSC 2021: 8
th
International Conference on Spatial Cognition, Rome, Italy.
https://youtu.be/hRqkqup40bI
(Download)