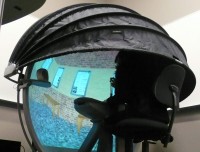 Comparing spatial perception/cognition in real versus immersive virtual environments: it doesn't compare!
Virtual real­ity (VR) is increas­ingly used in psy­cho­log­i­cal research and appli­ca­tions – but does VR really afford nat­ural human spa­tial perception/cognition, which is a pre­req­ui­site for effec­tive spa­tial behav­ior? Using judg­ment of rel­a­tive direc­tion (JRD) tasks, Riecke & McNamara (Psychonomics 2007) demon­strated orientation-specific inter­fer­ence between participant's actual ori­en­ta­tion in an empty rec­tan­gu­lar room and their to-be-imagined ori­en­ta­tion in a previously-learned room. To test if VR yields sim­i­lar inter­fer­ence, we repli­cated their study using a mod­i­fied con­di­tion: We used an empty vir­tual (instead of real) test room pre­sented on a 180°×150° video pro­jec­tion. After learn­ing 15 target objects in a rec­tan­gu­lar office, par­tic­i­pants per­formed JRD tasks ("imag­ine facing X, point to Y") while facing dif­fer­ent ori­en­ta­tions in the vir­tual test room.
Despite using iden­ti­cal pro­ce­dures, seeing the vir­tual envi­ron­ment did not pro­duce the same inter­fer­ence as a com­pa­ra­ble real-world stim­u­lus, sug­gest­ing qual­i­ta­tive dif­fer­ences in human spa­tial perception/cognition in real vs. computer-simulated worlds.
We are cur­rently run­ning follow-up stud­ies to directly com­pare JRD per­for­mance in a real test room and a photo-realistic replica thereof, using our new 2560×1600 res­o­lu­tion Wheatstone Stereoscope. While some par­tic­i­pants showed the expected effect in the real but not vir­tual envi­ron­ment, unex­pect­edly we also observed the reverse. We are cur­rently run­ning con­trol stud­ies to inves­ti­gate poten­tial under­ly­ing factors.
Publications