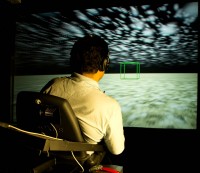 How do we best design loco­mo­tion inter­faces for VR that pro­vide "enough" phys­i­cal motion cues (vestibular/proprioceptive) while still being effec­tive, afford­able, com­pact, and safe?
Despite amaz­ing progress in com­puter graph­ics and VR dis­plays, most afford­able and room-sized VR loco­mo­tion inter­faces pro­vide only little phys­i­cal motion cues (e.g., vestibu­lar & pro­pri­o­cep­tive cues). To pro­vide a more com­pelling and nat­ural sen­sa­tion of being in and moving through vir­tual envi­ron­ments, and reduced motion sick­ness and dis­ori­en­ta­tion, we design and eval­u­ate novel approaches towards more embod­ied yet afford­able, safe, and com­pact loco­mo­tion inter­faces for VR. In par­tic­u­lar, we design and inves­ti­gate novel user-powered min­i­mal motion cueing inter­faces that can enhance self-motion per­cep­tion in vir­tual reality.
Video of how such motion cueing could be applied in VR simulations
Below is an exam­ple of how one can con­trol the self-motion sim­u­lated in Virtual Reality by simply lean­ing into the direc­tion of intended travel using a lean­ing chair (Gyroxus). No motors, actu­a­tors, or com­plex motion cueing algo­rithms needed.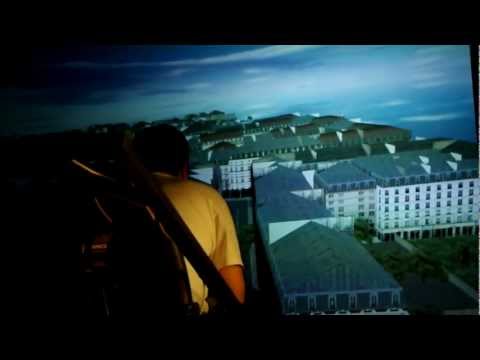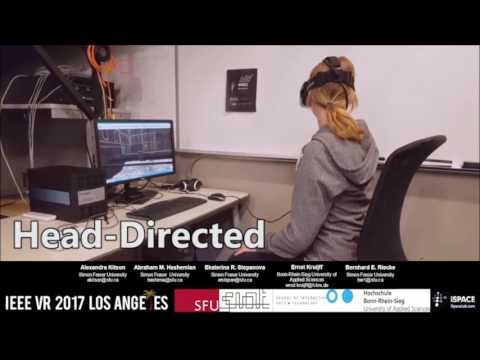 Below are 2 recent posters pre­sented at IEEE VR 2017:
Freiberg, J., Kitson, A., & Riecke, B. E. (2017). Development and Evaluation of a Hands-Free Motion Cueing Interface for Ground-Based Navigation. Proceedings of IEEE Virtual Reality 2017, 273–274. https://doi.org/10.1109/VR.2017.7892282
---
Sorry, there's no items to display.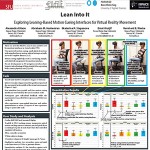 Media Gallery
Related Publications