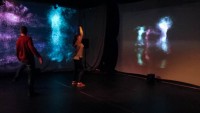 Body RemiXer con­nects bodies through move­ment. It is an expe­ri­en­tial pro­jec­tion based Virtual Reality instal­la­tion that explores novel forms of embod­ied inter­ac­tion between mul­ti­ple par­tic­i­pants where their bodies mix into a shared embod­ied rep­re­sen­ta­tion pro­duc­ing a play­ful inter­ac­tion that aims to sup­port the feel­ing of con­nec­tion and self-transcendence. Body RemiXer is both an artis­tic instal­la­tion and a research plat­form for inves­ti­ga­tion the notions of rela­tion of our bodies with our sense of "self".
Media Gallery
For more details, see here
Publications
Desnoyers-Stewart, J., Stepanova, E. R., & Riecke, B. E. (2019, June).
Body RemiXer
. Curated & peer-reviewed Virtual Reality Exhibition pre­sented at the The Fun Palace Carnival of Mixed Realities, Center for Digital Media (CDM), Vancouver, BC, Canada. Retrieved from
https://thecdm.ca/events/2019–06-25/the-fun-palace-carnival-mixed-realities