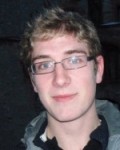 Biography
Jim has a broad back­ground in Interactive Multimedia and Design. He has devel­oped a mul­ti­tude of soft­ware appli­ca­tions with numer­ous devel­op­ment envi­ron­ments, hard­ware devices, and oper­at­ing sys­tems such as: Unity, UDK, Processing, Xbox Kinect, Occulus Rift, HTML5, Android, and iOS.
His pri­mary research inter­ests include cre­at­ing and eval­u­at­ing inno­v­a­tive new inter­faces for users to move and inter­act with vir­tual real­i­ties, specif­i­cally first person video games. He worked for a year in the iSpace lab on the "ulti­mate gaming chair" project.
He is also pretty decent at giving high fives.
Projects
Sorry, there's no projects to display for this person.
Publications
Sorry, there's no items to display.