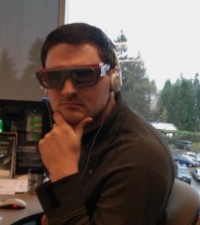 Biography
Salvar is a project-oriented viking who cannot turn down a chal­lenge. With a B.Sc. in Computer Science from the University of Iceland, his expe­ri­ence includes report­ing for the largest news­pa­per in Iceland and pro­gram­ming safety-critical soft­ware used in air traf­fic con­trol. Salvar's latest project involved sell­ing all his belong­ings and moving to Vancouver to study Virtual Reality, and it's psy­cho­log­i­cal aspects, at SFU's iSpace lab.
Salvar's inter­ests include video games, inter­face design, exper­i­men­tal psy­chol­ogy, writ­ing, cook­ing and pretty much any­thing else that calls for com­bin­ing ana­lyt­i­cal and cre­ative approaches. To sup­port his exu­ber­ant grad stu­dent lifestyle he assists in teach­ing courses at SFU, includ­ing an intro­duc­tory grad­u­ate pro­gram­ming course and third-year under­grad­u­ate course on inter­ac­tion design, as well as assist­ing Dr. Bernhard Riecke with what­ever pro­gram­ming prob­lems that need solv­ing in the iSpace lab at the time.
Projects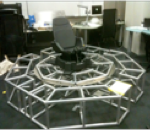 Collaboration between the iSpace lab at SIAT and Mechatronics Undergraduate Interns to design and build a unique, virtual reality multi-modal motion simulator The iSpace program is centered on investigating what constitutes effective, robust, and intuitive human spatial orientation and behaviour. This fundamental knowledge will be applied to design novel, more effective human-computer interfaces ...
---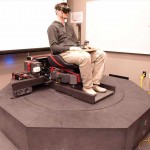 How important are physical motions for effective spatial orientation in VR? Most virtual reality simulators have a  serious flaw: Users tend to get easily lost and disoriented as they navigate. According to the prevailing opinion, this is because physical motion cues are absolutely required for staying oriented while moving. In this study, we investigated how physical motion cues contribute ...
---
Publications
Sigurdarson, S., Milne, A. P., Feuereissen, D., & Riecke, B. E. (2012). Can physical motions prevent disorientation in naturalistic VR? IEEE Virtual Reality, 31–34. https://doi.org/10.1109/VR.2012.6180874
Riecke, B. E., & Sigurdarson, S. (2013). Simple Modifications of Visuals can Enhance Spatial Orientation Ability in Virtual Environments, Whereas Adding Physical Rotations May Not [Talk]. 54th Annual Meeting of the Psychonomic Society (Psychonomics), Toronto, Canada.
Sigurdarson, S. (2014).
The Influence of Visual Structure and Physical Motion Cues on Spatial Orientation in a Virtual Reality Point-to-Origin Task
[MSc Thesis, Simon Fraser University].
http://summit.sfu.ca/item/14532
Riecke, B. E., Sigurdarson, S., & Milne, A. P. (2012). Moving Through Virtual Reality Without Moving? Cognitive Processing, 13(1), 293–297. https://doi.org/10.1007/s10339-012-0491-7