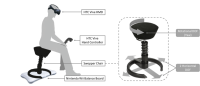 Navigation Interfaces for Virtual Reality and Gaming: Theory and Practice
to be held at IEEE VR 2017, Sunday, March 19, 1:30pm — 5:00pm
Description
In this course, we will take a detailed look at var­i­ous breeds of spa­tial nav­i­ga­tion inter­faces that allow for loco­mo­tion in dig­i­tal 3D envi­ron­ments such as games, vir­tual envi­ron­ments or even the explo­ration of abstract data sets. We will closely look into the basics of nav­i­ga­tion, unrav­el­ing the psy­chophysics (includ­ing wayfind­ing) and actual nav­i­ga­tion (travel) aspects. The the­o­ret­i­cal foun­da­tions form the basis for the prac­ti­cal skill set we will develop, by pro­vid­ing an in-depth dis­cus­sion of nav­i­ga­tion devices and tech­niques, and a step-by-step dis­cus­sion of mul­ti­ple real-world case stud­ies. Doing so, we will cover the full range of nav­i­ga­tion tech­niques from hand­held to full-body, highly engag­ing and partly uncon­ven­tional meth­ods and tackle spa­tial nav­i­ga­tion with hands-on-experience and tips for design and val­i­da­tion of novel inter­faces. In par­tic­u­lar, we will be look­ing at afford­able setups, rapid pro­to­typ­ing meth­ods and ways to "trick" out users to enable a real­is­tic feel­ing of self-motion in the explored envi­ron­ments. As such, the course unites the theory and prac­tice of spa­tial nav­i­ga­tion, serv­ing as entry point to under­stand and improve upon cur­rently exist­ing meth­ods for the appli­ca­tion domain at hand.
Kruijff, E., & Riecke, B. E. (2017).
Navigation Interfaces for Virtual Reality and Gaming: Theory and Practice
. Workshop pre­sented at the IEEE Virtual Reality (VR 2017), Los Angeles, CA, USA.
(Download)
Slides
Introduction
Part 1: Principles of Navigation
Part 2: Navigation Devices and Techniques
Part 3: Design, Develop, Validate
Part 4: Case Studies