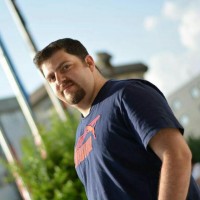 Biography
Matin joined the iSpace team in Fall 2017 as a grad­u­ate stu­dent. He is an expe­ri­enced pro­gram­mer, with a back­ground in com­puter sci­ence. He started fol­low­ing his fields of inter­ests in Human-Computer Interaction (HCI), Artificial Intelligence (AI) and Virtual Reality (VR) during his B.Sc in Computer Software Engineering.
After fin­ish­ing his B.Sc at 2015, he worked at an indus­trial video con­fer­ence ser­vice provider for 2 years as a soft­ware devel­oper. Then, he decided to con­tinue through acad­e­mia and research envi­ron­ment. Right now, he is work­ing on Functional Significance of Vection as his M.Sc thesis.
Projects
Sorry, there's no projects to display for this person.
Publications
Sorry, there's no items to display.