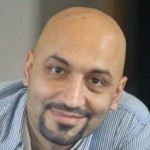 Biography
Abraham is a Ph.D. stu­dent in School of Interactive Arts & Technology (SIAT) at Simon Fraser University (SFU) with a back­ground in com­puter sci­ence. He is inter­ested in UX/UI research in vir­tual, aug­mented, and mixed real­i­ties. Moreover, he is inter­ested in immer­sive game design regard­ing his knowl­edge and prior experiences.
Background: After fin­ish­ing his M.Sc. in Artificial Intelligence (AI) at 2003, Abraham taught for 12 years as a uni­ver­sity instruc­tor, while focus­ing on game design (for the first 5 years) and Holographic inter­face design (for the next 5 years) as his field of research. In 2015, he started his Ph.D., focus­ing on design­ing inter­faces for nav­i­ga­tion within vir­tual envi­ron­ments. Please check his per­sonal web­site for more details.
Projects
Publications
Kitson, A., Riecke, B. E., Hashemian, A. M., & Neustaedter, C. (2015). NaviChair: Evaluating an Embodied Interface Using a Pointing Task to Navigate Virtual Reality. In Proceedings of the 3rd ACM Symposium on Spatial User Interaction (pp. 123–126). Los Angeles, CA, USA: ACM. https://doi.org/10.1145/2788940.2788956
Hashemian, A. M., & Riecke, B. E. (2017, April). Rotate and Lean: Does Leaning toward the Target Direction Improves the Virtual Reality Navigation? Poster presented at the Second International Workshop on Models and Representations in Spatial Cognition, Tübingen, Germany.
Hashemian, A. M., & Riecke, B. E. (2017). Leaning-Based 360° Interfaces: Investigating Virtual Reality Navigation Interfaces with Leaning-Based-Translation and Full-Rotation. In S. Lackey & J. Chen (Eds.), Virtual, Augmented and Mixed Reality (VAMR 2017) (Vol. 10280, pp. 15–32). Cham: Springer.
Kitson, A., Hashemian, A. M., Stepanova, E. R., Kruijff, E., & Riecke, B. E. (2017). Comparing Leaning-Based Motion Cueing Interfaces for Virtual Reality Locomotion (pp. 73–82). Presented at the IEEE Symposium on 3D User Interfaces 3DUI, Los Angeles, CA, USA. https://doi.org/10.1109/3DUI.2017.7893320
Kitson, A., Nguyen-Vo, T., Hashemian, A. M., Stepanova, E. R., & Riecke, B. E. (2017, November). A User Study Comparing Two Low-Cost Chair Interfaces for Embodied Virtual Locomotion. Talk presented at the Psychonomic Society 58th Annual Meeting, Vancouver, BC, Canada.