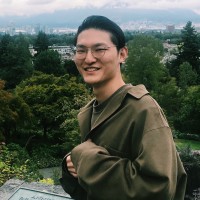 Biography
Pinyao became a research intern at the iSpace lab in July 2019 and started his Masters in Fall 2020. He has a back­ground in Engineering and is always fas­ci­nated by the inter­sec­tion of design and emerg­ing tech­nol­ogy. His cur­rent research inter­ests involve inter­ac­tion design in XR and employ­ing tech­nol­ogy as a medium to create mean­ing­ful experiences.
Projects
Publications
Liu, P., Stepanova, E. R., Kitson, A. J., Schiphorst, T., & Riecke, B. E. (2022). Virtual Transcendent Dream: Empowering People through Embodied Flying in Virtual Reality. Proceedings of the SIGCHI Conference on Human Factors in Computing Systems, 1–18. https://doi.org/10.1145/3491102.3517677
Liu, P., Riecke, B. E., Kitson, A. J., & Stepanova, K. (2021, October).
In air we dream
[Curated Virtual Reality Exhibition]. Recto VRso Vancouver 2020, Vancouver, BC, Canada.
https://www.alliancefrancaise.ca/v-unframed/