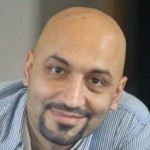 Biography
Abraham is a Ph.D. stu­dent in School of Interactive Arts & Technology (SIAT) at Simon Fraser University (SFU) with a back­ground in com­puter sci­ence. He is inter­ested in UX/UI research in vir­tual, aug­mented, and mixed real­i­ties. Moreover, he is inter­ested in immer­sive game design regard­ing his knowl­edge and prior experiences.
Background: After fin­ish­ing his M.Sc. in Artificial Intelligence (AI) at 2003, Abraham taught for 12 years as a uni­ver­sity instruc­tor, while focus­ing on game design (for the first 5 years) and Holographic inter­face design (for the next 5 years) as his field of research. In 2015, he started his Ph.D., focus­ing on design­ing inter­faces for nav­i­ga­tion within vir­tual envi­ron­ments. Please check his per­sonal web­site for more details.
Projects
Publications
Hashemian, A. M., Kitson, A., Nguyen-Vo, T., Benko, H., Stuerzlinger, W., & Riecke, B. E. (2018). Investigating a Sparse Peripheral Display in a Head-Mounted Display for VR Locomotion (p. 2-page extended abstract and poster). Presented at the IEEE Virtual Reality 2018, Reutlingen, Germany: IEEE.
Kitson, A., Nguyen-Vo, T., Hashemian, A. M., Stepanova, E. R., & Riecke, B. E. (2017, November). A User Study Comparing Two Low-Cost Chair Interfaces for Embodied Virtual Locomotion. Talk presented at the Psychonomic Society 58th Annual Meeting, Vancouver, BC, Canada.
Hashemian, A. M., & Riecke, B. E. (2017, April). Rotate and Lean: Does Leaning toward the Target Direction Improves the Virtual Reality Navigation? Poster presented at the Second International Workshop on Models and Representations in Spatial Cognition, Tübingen, Germany.
Kitson, A., Stepanova, E. R., Hashemian, A. M., Riecke, B. E., Nagy, G., Choo, A., & Chen, D. (2016, May). TeleSpider: investigating motion-cueing interfaces for control of a remote robotic spider. Project exhibition presented at the Consumer Virtual Reality (CVR) conference, Vancouver, BC, Canada.
Kitson, A., Hashemian, A. M., Stepanova, E. R., Kruijff, E., & Riecke, B. E. (2017). Comparing Leaning-Based Motion Cueing Interfaces for Virtual Reality Locomotion. In Proceedings of IEEE Symposium on 3D User Interfaces 3DUI (pp. 73–82). Los Angeles, CA, USA. https://doi.org/10.1109/3DUI.2017.7893320
Hashemian, A. M., & Riecke, B. E. (2017). Leaning-Based 360° Interfaces: Investigating Virtual Reality Navigation Interfaces with Leaning-Based-Translation and Full-Rotation. In S. Lackey & J. Chen (Eds.),
Virtual, Augmented and Mixed Reality (VAMR 2017)
(Vol. 10280, pp. 15–32). Cham: Springer. Retrieved from
https://youtu.be/7IT9EODJn3c
Kitson, A., Riecke, B. E., Hashemian, A. M., & Neustaedter, C. (2015). NaviChair: Evaluating an Embodied Interface Using a Pointing Task to Navigate Virtual Reality. In Proceedings of the 3rd ACM Symposium on Spatial User Interaction (pp. 123–126). Los Angeles, CA, USA: ACM. https://doi.org/10.1145/2788940.2788956