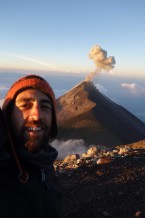 Biography
Alexander joined the iSpace Lab in Fall 2020 as a PhD stu­dent work­ing on a Locomotion Interface for Virtual Reality and Telepresence. He is fas­ci­nated by altered states of con­scious­ness and Human-Machine Interfaces. In his Bachelor in Cognitive Science from the University of Osnabrück, Germany he con­cen­trated on psy­chol­ogy, com­puter sci­ence, math, and phi­los­o­phy. His Master's in the inter­dis­ci­pli­nary stud­ies of 'Intelligence and Movement' at the University of Bielefeld, Germany focused on under­stand­ing human inter­ac­tions with envi­ron­ments. He is excited to develop and design tech­nolo­gies merg­ing humans with machines and enhance usabil­ity in order to target prob­lems of our future.
He recently started a job in industry.
Projects
Publications
Adhikari, A., Zielasko, D., Bretin, A., von der Heyde, M., Kruijff, E., & Riecke, B. E. (2021). Integrating Continuous and Teleporting VR Locomotion into a Seamless "HyperJump" Paradigm. 2021 IEEE Conference on Virtual Reality and 3D User Interfaces Abstracts and Workshops (VRW), 370–372. https://doi.org/10.1109/VRW52623.2021.00074
Riecke, B. E., Adhikari, A., Zielasko, D., Bretin, A., Heyde, M. von der, & Kruijff, E. (2021). HyperJump: Merging Teleporting and Continuous VR Locomotion into one Paradigm [Talk]. ICSC 2021: 8th International Conference on Spatial Cognition, Rome, Italy.