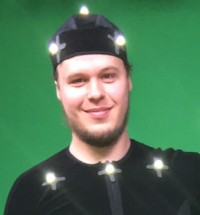 Biography
Noah joined the iSpace team in Fall 2018 as a PhD stu­dent. He has a Bachelor and Master's in Computer Science from the University of Minnesota Duluth. In his Master's, he researched the dif­fer­ence between inter­face affor­dances of real-world and vir­tual objects in vir­tual real­ity. During this time, he also worked in the inter­dis­ci­pli­nary MMAD Lab as a motion cap­ture tech­ni­cian and research assis­tant where he worked with Biomechanics, Engineers, Dancers, Artists, and Mathematicians. His research focuses on inter­dis­ci­pli­nary approaches to using vir­tual real­ity for self trans­for­ma­tive expe­ri­ences aimed at mental health issues, reduc­ing post­op­er­a­tive pain with VR, self-transcendence, and loco­mo­tion in VR. His other inter­ests include phi­los­o­phy, game design, and HCI.
Projects
Publications
Kitson, A. J., Desnoyers-Stewart, J., Miller, N., Adhikari, A., Stepanova, E. R., & Riecke, B. E. (2020). Can We Trust What's Real? Using Fiction to Explore the Potential Dissociative Effects of Immersive Virtual Reality. Ethics of MR'20 Workshop at ACM CHI 2020 (Exploring Potentially Abusive Ethical, Social and Political Implications of Mixed Reality Research in HCI), Honolulu, HI, USA.
Miller, N., Desnoyers-Stewart, J., Stepanova, E. R., Adhikari, A., Kitson, A. J., Quesnel, D. T., Pennefather, P., & Riecke, B. E. (2021, October 1).
Sirius
[Curated & peer-reviewed Virtual Reality Exhibition]. V-Unframed, Vancouver, BC, Canada.
https://www.alliancefrancaise.ca/v-unframed/the-artworks/sirius/
Stepanova, E. R., Brauns, K., Friedl-Werner, A., Miller, N., Desnoyers-Stewart, J., Adhikari, A., Riecke, B. E., & Stahn, A. C. (2022). A Neurophenomenological Approach to Bet ter Understand the Efects of Eliciting Positive Experiences in Virtual Reality [Poster]. Phenomenological Methods in Neuroscience and Consciousness Research workshop, University of Zürich.