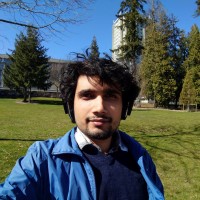 Biography
Ashu Adhikari joined the iSpace team in Fall 2018 as a grad­u­ate stu­dent. His research focuses on cre­at­ing embod­ied loco­mo­tion inter­faces in vir­tual reality.
He is a Professional Engineer with a bachelor's degree in Electronics and Communication Engineering.
Projects
Publications
Kitson, A. J., Desnoyers-Stewart, J., Miller, N., Adhikari, A., Stepanova, E. R., & Riecke, B. E. (2020). Can We Trust What's Real? Using Fiction to Explore the Potential Dissociative Effects of Immersive Virtual Reality. Presented at the Ethics of MR'20 Workshop at ACM CHI 2020 (Exploring Potentially Abusive Ethical, Social and Political Implications of Mixed Reality Research in HCI), Honolulu, HI, USA: ACM.