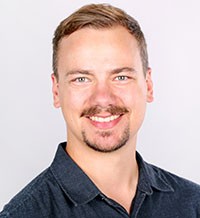 Biography
John Desnoyers-Stewart is an inter­dis­ci­pli­nary artist-researcher pur­su­ing his PhD in Interactive Arts and Technology at Simon Fraser University in Vancouver, BC, Canada. He is a pro­fes­sional engi­neer with a Master of Fine Arts in Interdisciplinary Studies who seeks oppor­tu­ni­ties to bring knowl­edge from diverse dis­ci­plines together to pro­mote cre­ativ­ity and inno­va­tion. He is also a con­sul­tant with a broad array of exper­tise includ­ing graphic and prod­uct design and has devel­oped mixed real­ity instru­ments and tools for music and train­ing applications.
His cur­rent focus is devel­op­ing immer­sive instal­la­tions to encour­age new per­spec­tives on immer­sive tech­nol­ogy and to better under­stand its true poten­tial and study its effects. He has exhib­ited his multi-user mixed real­ity instal­la­tions, Transcending Perception, Body RemiXer, and JeL at art gal­leries and fes­ti­vals through­out the Greater Vancouver Area and in Regina, Canada. Through these instal­la­tions he hopes to encour­age social con­nec­tion and col­lab­o­ra­tive cre­ativ­ity, explor­ing pos­i­tive social appli­ca­tions of vir­tual real­ity and better under­stand­ing the expe­ri­ence of embody­ing abstract bodies.
Research Summary
Mixed real­ity, inter­ac­tive art, social con­nec­tion, embod­i­ment and tac­til­ity, pseudo-haptics, research in-the-wild.
Degrees
BASc in Industrial Systems Engineering (Co-Op), University of Regina, 2011
MFA in Interdisciplinary Studies (Creative Tech and Computer Science), University of Regina, 2018
PhD Candidate in Interactive Arts and Technology, Simon Fraser University, in progress
Select Grants & Awards
Canada Council for the Arts Research and Creation Grant (2021−22)
SSHRC Doctoral Fellowship (2018−2023)
Engineers Canada TD Meloche-Monnex Scholarship (2019)
National Academy of Sciences Student Fellows Symposium Award (2018)
Saskatchewan Innovation and Opportunity Graduate Scholarship (2017)
Projects
Publications