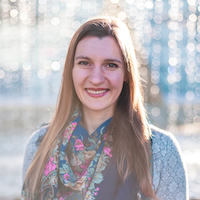 Biography
Katerina grad­u­ated from the Cognitive Science pro­gram with hon­ours from SFU and con­tin­ued into a grad­u­ate pro­gram at iSpace lab where she com­pleted her MSc and con­tin­ued into PhD program.
She strives to under­stand how the immer­sive powers of modern tech­nol­ogy can be lever­aged to help people become more con­nected with them­selves, each other and the world around them.  Through an embod­ied cog­ni­tion and phe­nom­e­no­log­i­cal lens, she explores the pos­si­bil­ity of cre­at­ing trans­for­ma­tive and inti­mate expe­ri­ences with the use of Virtual Reality and biofeed­back, and study­ing them in con­trolled lab con­di­tions as well as in a public set­ting in a form of art installations.
She is fas­ci­nated by dif­fer­ent ways of cre­at­ing knowl­edge in art, sci­ence and human­i­ties, and as such engages with a vari­ety of quan­ti­ta­tive and qual­i­ta­tive method­olo­gies, such as research through design, exper­i­men­tal design, phys­i­o­log­i­cal mea­sures, behav­ioural mea­sures, obser­va­tional stud­ies, micro-phenomenology, hermeneu­tic phe­nom­e­nol­ogy, autoethnog­ra­phy, and close reading.
In 2022 Katerina has con­ducted research visits and intern­ships with Kristina Höök at KTH University in Stockholm spon­sored by SSHRC Michael Smith Foreign Study Scholarship Supplement, and with Alexander Stahn at Charité Universitaetsmedizin in Berlin spon­sored by DAAD research grant.
Outside the lab she explores the out­doors by climb­ing moun­tains, biking, kayak­ing and snow­board­ing, find­ing her inspi­ra­tion in expe­ri­enc­ing a con­nec­tion with the spec­tac­u­lar nature of British Columbia, or prac­tis­ing yoga or swing danc­ing to foster bodily aware­ness which in turn informs her research.
Select Grants & Awards
SSHRC Joseph-Armand Bombardier Canadian Doctoral Scholarship (2021−2024)
German Academic Exchange Service (DAAD) Short-term Research Grant (2022)
Projects
Publications