Next offering: Spring 2023, taught by Bernhard Riecke
---
first taught in Fall 2017.
taught by Chelsea Mills, under the men­tor­ship of Bernhard Riecke.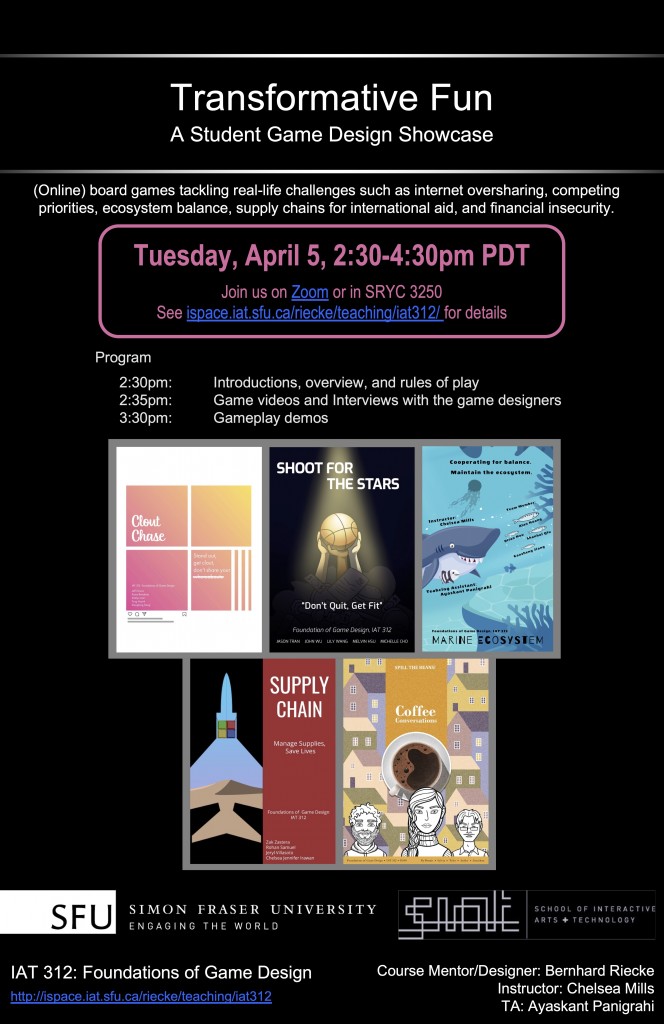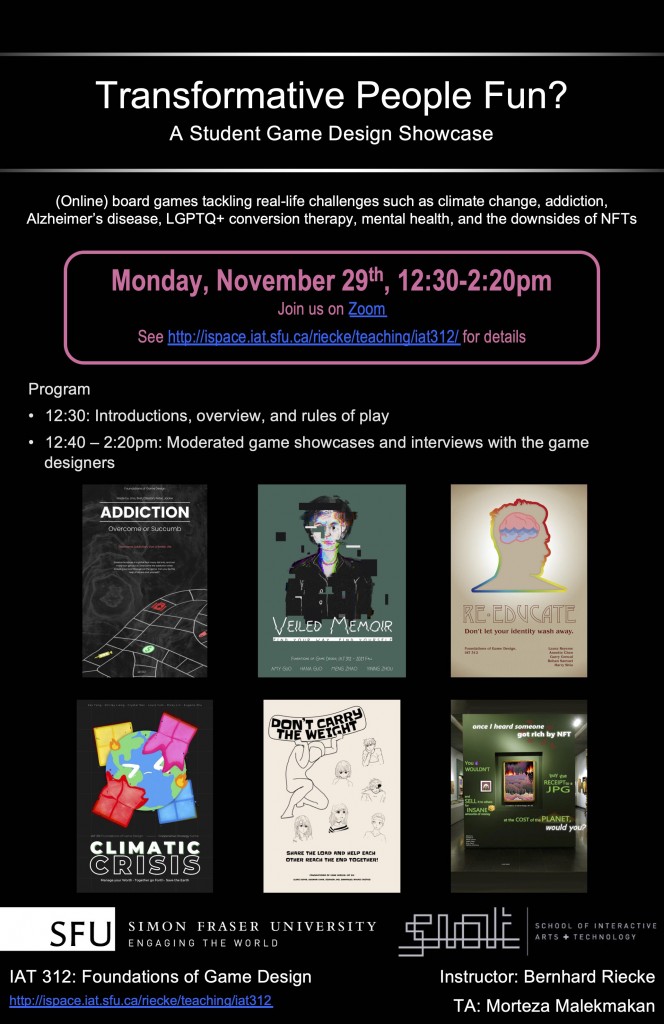 Want to try out Games from prior classes?
type "IAT312" into the search field on the Tabletop Simulator site on Steam or through this direct link.
Course description
In a nut­shell: you'll learn how to design, build, ana­lyze, and iter­a­tively refine a number of non-digital games.
Course goals

This is an intro­duc­tory course in game design and we will exam­ine the dis­ci­pline and prac­tices of game design. Games are stud­ied across three ana­lyt­i­cal frame­works: games as rules (formal system), games as play (expe­ri­en­tial system), and games as cul­ture (social system). This course will include ana­lyt­i­cal and prac­ti­cal exer­cises in game design includ­ing small non-digital game design projects. Game design is a cre­ative endeav­our requir­ing prac­ti­cal expe­ri­ence through design, cri­tique and iter­a­tion. We will explore some of the more uni­ver­sal game mech­a­nisms, such as ran­dom­ness, eco­nomic sys­tems, player moti­va­tion and psy­chol­ogy, and a few spe­cific topics in more detail. This course will pre­pare stu­dents to under­take the fun­da­men­tals of game design includ­ing design­ing, build­ing, ana­lyz­ing, and iter­a­tively refin­ing a number of non-digital games.
During the 2021 Spring semes­ter, this course will be taught online and will apply a flipped approach to learn­ing. Each week stu­dents will work inde­pen­dently and with peers learn­ing about game design through videos, read­ings, dis­cus­sions and small indi­vid­ual and team activ­i­ties. In the live lec­ture part of this class, we will read and dis­cuss some of the work that ana­lyzes play­ers, games and the game design process to estab­lish common ground and pre­pare you for prac­ti­cal work in the labs where stu­dents will play(test), cri­tique, improve and design games as well as report on the course's longer game design projects.
No pro­gram­ming or Unity knowl­edge is required. All games cre­ated in this course will be or mimick analog games.
Intended learning outcomes
The course is intended to sup­port you to gain both prac­ti­cal expe­ri­ence with and a crit­i­cal under­stand­ing of the foun­da­tions of game design in spe­cific con­texts. Specifically, by ful­fill­ing the require­ments of the course you will be pre­pared to accom­plish key tasks in 4 main game design areas:
Game Design Basics:

Explain and crit­i­cally reflect on games, and the char­ac­ter­is­tics and fea­tures of dif­fer­ent types of games includ­ing their com­po­nents, mechan­ics & rules, dynam­ics, and aesthetics/UX/fun, the "Magic Circle", and what makes for a com­pelling game
Analyze and argue what makes for a com­pelling game (or not) and why people like to play games

Game Design Frameworks & Psychology

Compare and con­trast dif­fer­ent frame­works and under­ly­ing assump­tions, and deter­mine how and when to use which frameworks
Explain dif­fer­ent player types and psy­cholo­gies, how they affect their game­play, assump­tions, and pref­er­ences, and use this knowl­edge to improve game designs

Game Design Process:

Explain and effec­tively uti­lize game design best practices/processes/frameworks/mechanics, and explain how you did this when design­ing sev­eral games in teams. This includes typ­i­cal game design phases such as ideation, pro­to­typ­ing and play test­ing as the base for an iter­a­tive game design cycle
Analyze, dis­cuss, and cri­tique games using appro­pri­ate ter­mi­nol­ogy, and pro­vide well-structured, con­struc­tive, and useful feed­back (e.g., after playtest­ing or game pitches).
Discuss the dif­fer­ence between game cri­tiques vs. playtest­ing, and demon­strate why, when, and how to use either of them effec­tively to improve your game and design process
Effectively demon­strate and reflect on how to effec­tively com­mu­ni­cate your game across dif­fer­ent stages (from early pro­to­type to final game), to dif­fer­ent audi­ences (both inter­nal and exter­nal), and using dif­fer­ent pre­sen­ta­tion for­mats (incl. writ­ten instructions/rule sheets, pitches, game design doc­u­ments (GDDs), and game videos)

Game Design Teams:

Reflect on and apply suit­able processes and team-based, col­lab­o­ra­tive prac­tices used in game design includ­ing ideation, pro­to­typ­ing, iter­a­tive revi­sions, and playtest­ing as the base for an iter­a­tive design cycle to a game design project.

Specific processes cov­ered in this class may include struc­tured team brain­storm­ing (affin­ity dia­gram­ming), mood­boards, inspi­ra­tion analy­sis, Razor & Slogan, Play Matrix, playtest­ing scripts, struc­tured game critique/analysis, and Agile project management)

Explain what makes a good game designer, and why and how they often work in teams
Reflect on your own and others' assump­tions, lenses, beliefs, what people really care about, and pref­er­ences about games/playing, and how do they affect game design and teamwork
Explain and uti­lize a tool­box of how to  foster a col­lab­o­ra­tive, con­struc­tive, and sup­port­ive team cul­ture and process, includ­ing pat­terns of think­ing and behav­iour that sup­port effec­tive teams, as well as spe­cific  tools, tips, processes and frame­works (incl. Agile) that might be useful
Find ways to effec­tively address chal­lenges that can occur in team-based envi­ron­ments while being respect­ful and con­struc­tive. (This could include col­lab­o­ra­tively resolve chal­lenges that com­monly occur in team-based projects, such as bal­anc­ing between leading/following, com­mu­ni­ca­tion chal­lenges, con­flicts that arise, ensur­ing all team mem­bers con­tribute mean­ing­fully, engag­ing all team mem­bers, ensur­ing all care for the project and each other, get­ting people on the same page, and fig­ur­ing out a shared vision/purpose that all can care about).
Delivery Method
This course will include a weekly live lec­ture (110 min­utes) and a workshop-tutorial (110 min­utes) com­po­nent. The course for the spring 2021 will be deliv­ered via remote instruc­tion and will use a "flipped" class­room approach. Students are expected to par­tic­i­pate in:
syn­chro­nous activ­i­ties during the sched­uled course times. This includes a live, inter­ac­tive lec­ture with demon­stra­tions, dis­cus­sions, and some indi­vid­ual and peer/group work, as well as a live workshop-tutorial where stu­dents will prac­tice and apply the con­cepts of the lec­ture in design­ing sev­eral games
asyn­chro­nous activ­i­ties (e.g., inde­pen­dent prepa­ra­tion before the lec­ture, team work, peer work etc. to pre­pare each week and to pace your­self care­fully in order to stay on top of the activities/assignments and to get the most from the class).
The learn­ing envi­ron­ment will be active, sup­port­ing, and will afford oppor­tu­ni­ties for stu­dents to strengthen knowl­edge, skills, and feel a part of a community.
Teaching/Learning Activities
these include:
Interactive lec­tur­ing and demonstrations
Flipped-classroom activ­i­ties: e.g., stu­dents are asked to watch online tuto­ri­als & do read­ings at home so they can come to class pre­pared to do a short quiz, dis­cuss and apply the mate­r­ial, and fill out the weekly JiTT online assignments
Tutorial ses­sions
A team project made up of sev­eral team assignments/presentations that cul­mi­nate in a final group project report/presentation and project video
Group dis­cus­sions (in-class and online chat– and dis­cussing forums)
Short in-class writ­ing and other activities
Weekly read­ing and short writ­ing assignments
Several short stu­dent team presentations
Peer feed­back and evaluations
Main textbook
Fullerton, T. (2019). Game Design Workshop: A Playcentric Approach to Creating Innovative Games, Fourth Edition (4th Edition.). Boca Raton, FL: A K Peters/CRC Press. ISBN: 9781315104300. This is our main text­book, so make sure you have access and get your own copy by the first week of the semes­ter. You should be able to access it online through the SFU library.
Schell, J. (2019). The Art of Game Design: A Book of Lenses, Third Edition. A K Peters/CRC Press. doi:10.1201/b22101. You should be able to access this online through the SFU library.
Additional read­ings will be pro­vided through Canvas.
Software used for game design & playtesting: Tabletop Simulator
As this is an online class in Spring 2021 you won't need to pur­chase phys­i­cal pro­to­typ­ing mate­ri­als for design­ing your own games. Instead we will use an online board game sim­u­la­tor, the "Tabletop Simulator" https://www.tabletopsimulator.com/about. Course assign­ments will be taught and demon­strated with this soft­ware, and other soft­ware will not be sup­ported by the course. You can also use this soft­ware for rapid pro­to­typ­ing and design­ing your games in your teams, and it also works really well for online and dis­trib­uted playtest­ing (and of course gaming just for fun), and shar­ing your final games online. Thus we strongly rec­om­mend that you pur­chase, down­load, and install your own copy of it before class starts, see link above of directly from Steam https://store.steampowered.com/app/286160/Tabletop_Simulator/. it runs on both Windows and MacOS and cur­rently costs CDN$ 21.99. The soft­ware has a lot of excel­lent online resources and tuto­ri­als avail­able at https://www.tabletopsimulator.com/about. Note that to min­i­mize your extra costs for this class, we are remov­ing the need to pur­chase phys­i­cal pro­to­typ­ing and game design mate­ri­als, and I chose a text­book where our library pro­vides free online access.
Weekly Structure
The course will apply a "flipped" approach to learn­ing. This requires you to pre­pare each week and to pace your­self care­fully in order to stay on top of the activities/assignments and to get the most from the class. Each week it will go some­thing like this:
Preparing Before Lecture
You will begin the week by check­ing the weekly plan and your tasks on Canvas, and then watch­ing short, online tuto­ri­als, lec­tures, or other videos related to this week's topics; then you will be invited to do the weekly read­ings that will cover topics of the week. You will use a read­ing guide/Jitt ques­tions to help you focus on key aspects of the read­ings, to answer key ques­tions that will help you to under­stand the ideas in the read­ings, and start apply­ing them in the JiTT ("Just in Time Teaching") online short weekly assign­ments. We will also ask you about any "muddy points" or ques­tions you might still have after going through the videos, read­ings, and JiTTs. This will be done before the live lec­ture and will help us decide what aspects to focus on specif­i­cally in the "lec­ture".  Occasionally you may be asked to do a short quiz to indi­cate how well you have under­stood the con­cepts in the read­ings and videos.
We will assist you in form­ing small study groups for those inter­ested to help you digest and reflect on the mate­ri­als before class, and have people to dis­cuss the topics with (as that can some­times be a chal­lenge in online teach­ing). We will also have a course slack chan­nel for online dis­cus­sions and Q&A.
Engaging in the Live Lecture where we discuss and apply the material
The lec­tures will be inter­ac­tive and include small group dis­cus­sions,  demon­stra­tions, stu­dent pre­sen­ta­tions and feed­back ses­sions, and instruc­tion on key ideas. Parts of the lec­tures may be recorded for review. It is impor­tant to real­ize that the lec­tures will focus on key ideas and appli­ca­tions and will not be a re-teaching of con­tent found in the read­ings and videos. You are required to read and pre­pare for the live lecture.
Participating in the Tutorials (aka Workshops or WKS)
Following the live lec­ture each week there is a tuto­r­ial aimed to pro­vide oppor­tu­ni­ties for prac­tic­ing and apply­ing the knowl­edge and skills of game design. The tuto­ri­als will include small group learn­ing, team activ­i­ties, game playtest­ing, and peer feed­back in par­tic­u­lar on the game design projects. Teams may be called upon to do short pre­sen­ta­tions or pitches of their game ideas and receive feed­back from peers and the instruc­tor on their designs. The tuto­ri­als will be highly engag­ing and prac­ti­cal and require your full con­tri­bu­tion. They also require active par­tic­i­pa­tion in the prior lecture.
Documentation of prior (and ongoing) games that students created
Examples and details from the Fall 2017 course offering
For their final game project, stu­dents were asked to design a non-digital game that includes "Transformative Fun" aspects, also known as "seri­ous fun" (e.g., Lazzaro): That is, the game should be meaningful/purposeful or add value by some­how trans­form­ing the user, e.g., by pro­vid­ing a novel/meaningful user expe­ri­ence, dif­fer­ent perspectives/viewpoints, altered states etc.
Pictures from the final showcase on Dec 13, 2017
Sample Project Videos
Shelter   
ōBit   
StranDead   
Left Behind Bars   
False Illusion   
Rescue   
One Week to Refuge   
Questionnaire  
Some examples from the 2019 offering:
Obsessed with success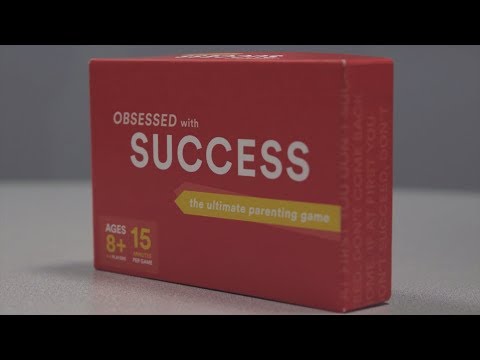 Student debt