Course Description
In this project-based course, you will use an immer­sion frame­work to design, create, and eval­u­ate immer­sive vir­tual envi­ron­ments and the inter­ac­tion between the user and the vir­tual envi­ron­ment. To do this, we will com­bine hands-on fun­da­men­tals with inter­ac­tion, ani­ma­tion, and immer­sive vir­tual real­ity design and the­o­ret­i­cal and research con­cerns. Your project will serve to both moti­vate and implement/showcase these aspects. The course will cul­mi­nate in a final inter­ac­tive project show­case and project pitch (oral/video) of your team project.
see SFU's Teaching & Learning blog for a news story on my first offer­ing of this course in 2013, enti­tled: "How a SIAT course in immer­sive envi­ron­ments exposed stu­dents to the real world"
Course Objectives, Learning Goals & Outcomes
In this course, you will learn and be pre­pared to:
Examine the his­tory and con­cep­tual frame­works sur­round­ing "immer­sion" and "immer­sive­ness" and what this means for dig­i­tal immer­sive envi­ron­ments and their users.
Apply a con­cep­tual frame­work in rela­tion to your own immer­sive project/experience and use it to cri­tique other immer­sive projects.
Demonstrate mod­er­ate pro­fi­ciency using appro­pri­ate soft­ware (cur­rently: Unity) to design and build inter­ac­tive (includ­ing user inter­ac­tion and ani­ma­tion) immer­sive 3D vir­tual envi­ron­ments and expe­ri­ences and dis­play them on off-the-shelf com­pu­ta­tional devices/displays such as head-mounted dis­plays (HMDs). Be able to present and explain your project and under­ly­ing code to others, and explain/defend your design deci­sions and how they are based on rel­e­vant frameworks/theories.
Reflect on and apply suit­able agile processes and team-based, col­lab­o­ra­tive prac­tices used in VR expe­ri­ence design includ­ing ideation, project goal-setting and scop­ing, pro­to­typ­ing, iter­a­tive revi­sions, user testing/evaluating, and crit­i­cal reflec­tion as the base for an iter­a­tive and col­lab­o­ra­tive VR design cycle. This includes find­ing ways to effec­tively address chal­lenges that can occur in team-based envi­ron­ments while being respect­ful and con­struc­tive. (This could include col­lab­o­ra­tively resolv­ing chal­lenges that com­monly occur in team-based projects, such as bal­anc­ing between leading/following, com­mu­ni­ca­tion chal­lenges, con­flicts that arise, ensur­ing all team mem­bers con­tribute mean­ing­fully, engag­ing all team mem­bers, ensur­ing all care for the project and each other, get­ting people on the same page, and fig­ur­ing out a shared vision/purpose that all can care about).
Argue how this effec­tively takes advan­tage of the unique affor­dance of immer­sive VR to foster user expe­ri­ences that would oth­er­wise be impos­si­ble (or not as easily acces­si­ble), to impact users' emo­tions, cognition/perspective and/or behav­ior in a pos­i­tive direction
What's in it for you?
You will learn how to design, build, and iter­a­tively refine an immer­sive and inter­ac­tive VR expe­ri­ence that should blow the user away and pos­i­tively affect them in a mean­ing­ful way. To do this, you will use the pop­u­lar Unity 3D game engine and guid­ance from an immer­sion frame­work. You will most likely be imple­ment­ing this for head-mounted dis­plays so you'll be able to show­case it wher­ever you go – includ­ing your next job inter­view and your next party. Combining a public project show­case with an exec­u­tive sum­mary and a final project video can fur­ther improve your resume/portfolio and marketability.
Fall 2021 offering (in-person)
Impact: Using immer­sive expe­ri­ence design to con­tribute to mean­ing­ful solu­tions to real-world chal­lenges. That is: what is a topic that you (and your team) care very deeply about that would help create a better world? A topic you care about so deeply about that it might be worth making a purposeful/transformative immer­sive VR expe­ri­ence out of it?
Impact: VR4Good IAT 445 Project showcase, Thursday, Dec 2nd, from 2 - 6:30pm
on  Thursday, Dec 2nd, from 2–6:30pm, the stu­dents from my course on "immer­sive envi­ron­ments" (IAT 445) will be pre­sent­ing their final VR projects, fea­tur­ing video trail­ers for each projects, and team inter­views with the VR designers.
The second part (Starting at 4:30) will be live-streamed on Zoom and acces­si­ble to every­one with an inter­net connection
Schedule:
in-person VR showcase: 14:00 - 16:30 (=2-4:30pm)
on the SFU Surrey campus, in room 3140. (direc­tions)
Live-streamed online showcase: 16:30 - 18:30 (=4:30 - 6:30pm): Zoom link
16:30pm: Introductions from Instructor and TA, overview of the course and the projects in the showcase
16:40 — 18:20: live VR project show­case & team inter­view. Moderated VR show­cases and inter­views with the VR designers

Team 1–1 16:40
Team 1–2 16:55
Team 1–3 17:10
Team 1–4   17:25
< poten­tial short break >
Team 2–1 17:40
Team 2–2 17:55
Team 2–3 18:10

18:25: Closing:  Final Q&A, audi­ence ques­tions, closing
if you missed the show­case, here's a recording: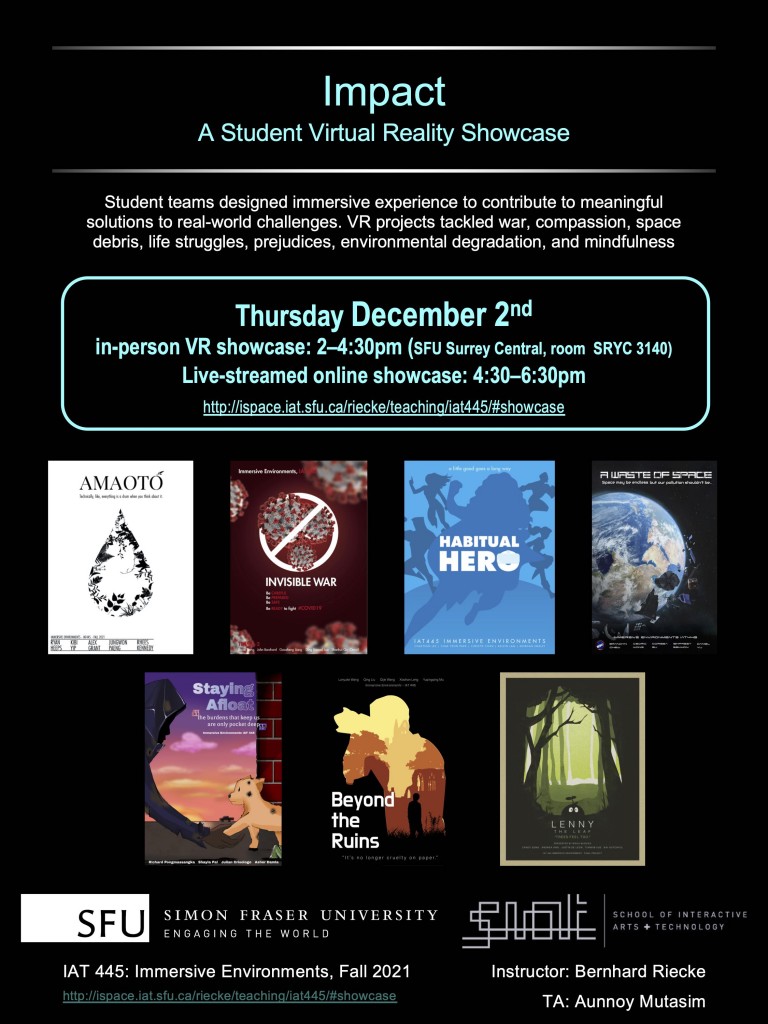 Details about the Game Projects:
Amaoto
Technically, like, everything is a drum when you think about it
Razor: Immerse yourself in the sound-driven experience of being alone on a rainy day, combining the percussive capabilities of pots and pans with the impact of droplets falling from the sky– all without getting wet.
By method of tac­tile, sat­is­fy­ing inter­ac­tions with house­hold objects re-contextualized to catch rain­drops, Amaoto guides imm­er­sants through a med­i­ta­tive, self-paced explo­ration of a rainy envi­ron­ment. In doing so, it not only hopes to pro­vide a calm­ing escape, but encour­ages imm­er­sants to find simple joys or a sense of peace within day-to-day inter­ac­tions which they may not have paid close atten­tion to previously.
Trailer:
project video:
Invisible War
Be careful, be prepared for next war
Razor: The user acts as a doctor to learn about The knowledge and impact of COVID-19, and to vaccinate people against COVID-19
World of Virus is an immer­sive expe­ri­ence that puts the player in the shoes of a virus infect­ing the human body. Experience the damage COVID-19 can cause from a first person view and learn about human anatomy along the way.
Trailer:
project video:
Habitual Hero
A little good goes a long way
Razor: Habitual Hero is an immersive VR experience intended to teach users the simplicity of being compassionate and helpful towards others
Habitual Hero is a challenge-based VR expe­ri­ence that places the user into a test to see how they handle the prob­lems in front of them. Users are given the oppor­tu­nity to become a super­hero in the pre-vr expe­ri­ence and must demon­strate they are a proper fit by com­plet­ing a series of tasks inside the vir­tual world. In the end, the user dis­cov­ers there is no serum to give them powers and that being a hero is help­ing others and being compassionate.
Trailer:
project video:
A Waste of Space
Space may be endless, but our pollution shouldn't be...
Razor: A satirical VR experience that addresses the carelessness of large corporate companies and their methods of "removing" space debris, indicating a need for a proper mitigation plan in the near future

A Waste of Space is a satir­i­cal expe­ri­ence set in the near future, where large cor­po­rate com­pa­nies launch rock­ets into space and have space sta­tions estab­lished to clean up the left­over debris from these launches. During a rou­tine debris cleanup, the player will be con­fronted with the shock­ing real­ity of the method in which these com­pa­nies sup­pos­edly "clean" up all this waste.
Trailer:
project video:
Staying Afloat
The burdens that keep us are only pocket-deep
Razor:  Pursuit of Happiness type game set in Canada

Taking care of a family has never been an easy task, but just imag­ine what hap­pens when you lose your job. Staying Afloat takes its users through a rather unlucky tale of finan­cial burden and how to get one­self and their family back on their feet. Travel the city, chat with others, and do what you need to do to pre­vent your family from suffering.
Trailer:
project video:
Beyond the Ruins
It's no longer cruelty on paper
Razor: To create stories that make people reflect on the war and use the power of immersion to reduce people's prejudices

The war cor­re­spon­dent is a role-playing game about the topic of anti-war. The game requires the player to play the role of a war cor­re­spon­dent. They will expe­ri­ence, observe the harm and cru­elty of war to ordi­nary people and even sol­diers from the per­spec­tive of a vul­ner­a­ble person who has expe­ri­enced war. In the game, the player needs to explore the bat­tle­field and use vir­tual cam­eras to record the moment about the war, such as crying chil­dren, injured sol­diers and the let­ters found in the dead sol­diers' pock­ets. Finally, the player will pub­lish the report after a cer­tain number of photos have been collected.
Trailer:
project video:
Lenny the Leaf 
Trees feel too
Razor: Our goal is to raise awareness towards the health of forests in a playful way by utilizing emotional connection

Lenny the Leaf revolves around a garbage man that dis­cov­ers a sen­tient sapling named Lenny. Lenny is in a forest that has become a garbage dump and asks the garbage man for his assis­tance to restore the forest and save Lenny's life. The garbage man must do so by com­plet­ing tasks that Lenny asks of him.
Trailer:
project video:
Project Posters
Project Executive Summaries
---
(first taught in Spring 2013)