Together with my col­league Patrick Pennefather we're cur­rently teach­ing our brand-new 15-credit immer­sive course enti­tled "Semester in Alternate Realities"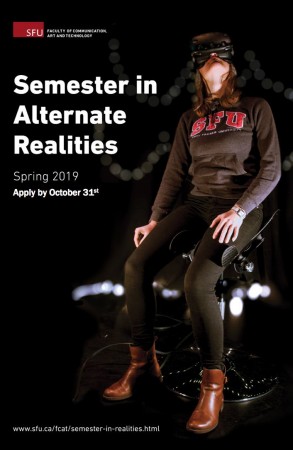 In this project-based course, par­tic­i­pants will be chal­lenged to develop solu­tions using tech­nolo­gies such as VR (e.g., Oculus Go/Rift, HTC Vive) and immer­sive multi-modal mixed real­ity instal­la­tions. In addi­tion to focus­ing on the co-construction of dig­i­tal pro­to­types afford­ing mean­ing­ful expe­ri­ences in "alter­nate real­i­ties", our objec­tive is to stim­u­late doc­u­mented reflec­tion and dis­cus­sion through­out the process. Participants can expect to work col­lab­o­ra­tively, be matched accord­ing to the skills they bring, and be pro­vided time and resources to learn new tech­niques and approaches, soft– and hard skills, and processes to con­duct user research. Participants will get the oppor­tu­nity to reflect on future tech­nolo­gies and their poten­tial impact on the world, and improve their pre­sen­ta­tion skills and pub­licly show­case their projects at three show­cases through­out the semes­ter. To incor­po­rate diverse per­spec­tives, stu­dents from dif­fer­ent dis­ci­plines were invited to apply and, in their appli­ca­tion, argue how they could con­tribute to the course and the co-construction of team projects. 18 stu­dents from dif­fer­ent depart­ments were selected.
This semester's design chal­lenge is "cre­at­ing for good": Use alter­nate real­i­ties tech­niques and tech­nolo­gies, guid­ing the­o­ret­i­cal frame­works, and appro­pri­ate processes, project man­age­ment and col­lab­o­ra­tion approaches to iter­a­tively ideate, design, pro­to­type, and eval­u­ate an inter­ac­tive alter­nate real­i­ties expe­ri­ence that affords mean­ing­ful expe­ri­ences for the bet­ter­ment of human­ity and/or our planet.
There is increas­ing evi­dence that the immer­sive nature of VR makes it a pow­er­ful medium for "doing good," and it is par­tic­u­larly well-suited for help­ing people develop com­pas­sion and empa­thy. In this course, we will explore the poten­tial of doing good using alter­nate real­i­ties (that are boom­ing around the world and par­tic­u­larly in Vancouver). This new course builds on our prior expe­ri­ence in teach­ing immer­sive envi­ron­ment courses and XR rapid pro­to­typ­ing, doing joint VR4Good projects, and orga­niz­ing a Siggraph Birds of a Feather ses­sion on VR/MR/AR 4 Good: Creating with a Purpose.
First Showcase: February 1st 2019
We'll have our first Student Virtual Reality Showcase on Friday February 1st, ca 1:00 - 4:30pm, on the SFU Surrey Campus Mezzanine, where the  18 stu­dents from dif­fer­ent SFU depart­ments show their first immer­sive project. Below are their project videos and brief project descrip­tions. See our face­book event page for first pic­tures of the show­case, more will follow soon.
Rising Waters: Is this your future?
Rising Waters is an exploratory con­text driven game that sets you in the future, in which pol­lu­tion has dev­as­tated the planet. Through nar­ra­tive and con­text clues, the player is set to nav­i­gate the world and auto­mat­i­cally obtain­ing sam­ples within their robotic suite to see how a low-lying coastal city has been dam­aged through care­less envi­ron­men­tal damage. Once the mis­sion is com­plete, the player exits the expe­ri­ence and reflects on their own envi­ron­men­tal impact.
Goal: The goal of this project is to prompt par­tic­i­pants to con­sider the long-term impact of their actions on the envi­ron­ment through visual, audi­tory and expe­ri­en­tial learn­ing. By sit­u­at­ing the par­tic­i­pant in a famil­iar loca­tion, city ban­ners are used to help local­ize the expe­ri­ence, par­tic­i­pants will learn about how a local­ized city can be impacted through a lack of imme­di­ate change towards com­bat­ing global and local pol­lu­tants, affect how the bios­phere behaves, which can con­tribute to rising sea levels, and degra­da­tion in the over­all qual­ity of the environment.
Core User Experience: The core user expe­ri­ence cen­ters around nar­ra­tive and expe­ri­en­tial learn­ing through inter­ac­tion with the built envi­ron­ment. In Rising Waters, the focus of atten­tion first and fore­most should be on how the user inter­acts with the built envi­ron­ment, dri­ving the core expe­ri­ence to be exploratory in nature. By having par­tic­i­pants inter­act with the envi­ron­ment, Rising Waters wants to con­front the user's  ini­tial sense of awe, with one of dread and shock. Ideally, the user expe­ri­ence presents itself as some­thing nou­veau, dri­ving for­ward a sense of urgency that imbues the user with a desire to com­plete the experience.
Restless Sleep - A Waking Coma Experience: To find the forest through the eyes of others
"Restless Sleep" is an inno­v­a­tive VR expe­ri­ence of a fab­u­lated nar­ra­tive in which users' mind is con­nect­ing with the con­scious­ness of coma patient in order to see and feel through a comatose per­cep­tion. The expe­ri­ence is com­posed by both per­for­ma­tive and vir­tual ele­ments, incor­po­rat­ing inter­ac­tive responses between hap­tics and visu­als, to guide users into the full embod­i­ment of a coma patient, who is con­stantly feel­ing and inter­act­ing with their phys­i­cal environment.
Goal: Our goal of the project is to let the user foster empa­thy towards coma patients. Many people ques­tion how con­scious of their sur­round­ings Coma patients are and how much out­side stim­u­la­tion they can actu­ally inter­pret. By being in a VR coma expe­ri­ence (per, during and post), the users are put into the shoes of a coma patient where they can learn how coma patients are treated and also to show that they have a mind of their own which are not fully unconscious.
Core User Experience: The core user expe­ri­ence we want to accom­plish is to foster empa­thy for coma patients and develop an under­stand­ing of what they can feel and how bystander actions can influ­ence the mental state along with the mental inter­pre­ta­tions of the patient. We want users to walk away from the expe­ri­ence with a sense of intro­spec­tive con­tem­pla­tion, and hope­fully knowl­edge on how best to handle them­selves around people in comas (or even those in other states of altered con­scious­ness). This is because we iden­ti­fied a sur­pris­ing amount of mis­in­for­ma­tion and igno­rance sur­round­ing comatose states, as well
as many first-hand expe­ri­ences of comatose patients. The most impact­ful was the story of a girl who was in a two week med­ically induced coma and her recounts of the hal­lu­ci­na­tory dreams she had while in the coma.. While we delib­er­ately didn't want to sub­ject the users to this, we did want to bring atten­tion to the feel­ing of help­less­ness one feels, and how it is anal­o­gous to being in VR — espe­cially in a public setting.
https://vimeo.com/315911417/b084425816
The Pitch of Red: Every colour has a voice
The Pitch of Red is an immer­sive VR expe­ri­ence that allows the user to expe­ri­ence synes­the­sia — a con­di­tion that blends two or more senses together. In our expe­ri­ence, users are able to hear the sounds of the colours they see as they wander through the mind of Wassily Kandinsky — an artist who had such a condition.
Goal: The project tries to bring the user closer to the notion of mixing human senses. The psy­cho­log­i­cal devi­a­tion can be expe­ri­enced by anyone to any extent. It is mostly based on what the person asso­ci­ated with a cer­tain sound, colour, taste or any other humanly under­stood medium. The amount of people who expe­ri­ence that feel­ing is rel­a­tively small, how­ever, the impact they have made in his­tory or their way of per­ceiv­ing the world is worth study­ing. The project is focused on com­mu­ni­cat­ing the idea of mixing human senses, also known as — synes­the­sia to those who have never heard some­thing sim­i­lar to that or never expe­ri­enced that sense.
Core user expe­ri­ence:  For The Pitch of Red we aim to pro­vide imm­er­sants with a greater under­stand­ing of what it is like to have synes­the­sia of asso­ci­at­ing colors to sounds, or at the very least, be able to describe what such synes­the­sia is to some­one who may not know what it means. During the expe­ri­ence they will be granted a "super­power": being able to hear every colour that they look at and we would expect users to feel curi­ous, excited and inten­tion­ally a bit over­whelmed. After fin­ish­ing our VR expe­ri­ence, we would like users will come out with a better under­stand­ing of what this par­tic­u­lar type of synes­the­sia might feel like in real life.
Aesthetically, we want the expe­ri­ence to allow the imm­er­sant to see an alter­nate real­ity through the eyes of Wassily Kandinsky. With that said, one of the dif­fi­cul­ties of VR is the lack of haptic touch so our focus with The Pitch of Red is to try to sim­u­late the rela­tion­ship between sight and sound.
Barriers: The TRIP of a lifetime
BARRIERS is a vir­tual expe­ri­ence that allows the user to view inter­ac­tions through the eyes and ears of a Non-Native English speaker. After biting into a "mag­i­cal" cookie, the par­tic­i­pant is trans­ported to a fan­tasy world. In order to achieve their goal of find­ing a wash­room, the imm­er­sant must inter­act with nearby talk­ing animals.
Goal:  The main emo­tion we are trying to evoke in our expe­ri­ence is the vul­ner­a­bil­ity of rely­ing on other people to be will­ing to help you when they don't under­stand what they are saying. What makes our project unique is its abil­ity to make anyone feel as though they do not under­stand the lan­guage since it is made up. This ties in with the course theme because it invokes empa­thy in the user and give them an expe­ri­ence they would not oth­er­wise have access to.
Core user experience:
Through BARRIERS, we hope to place users in the vul­ner­a­ble posi­tion of rely­ing on other people for help. This expe­ri­ence aims to recre­ate the frus­tra­tion that comes with not being able to speak English and the grat­i­tude that arises when an indi­vid­ual takes the time to explain and use dif­fer­ent com­mu­ni­ca­tion tech­niques to foster understanding.
Note: Our 2nd and 3rd showcases will likely be on March 8th (2nd showcase) & April 4th (final showcase)